Bastille – Other People's Heartache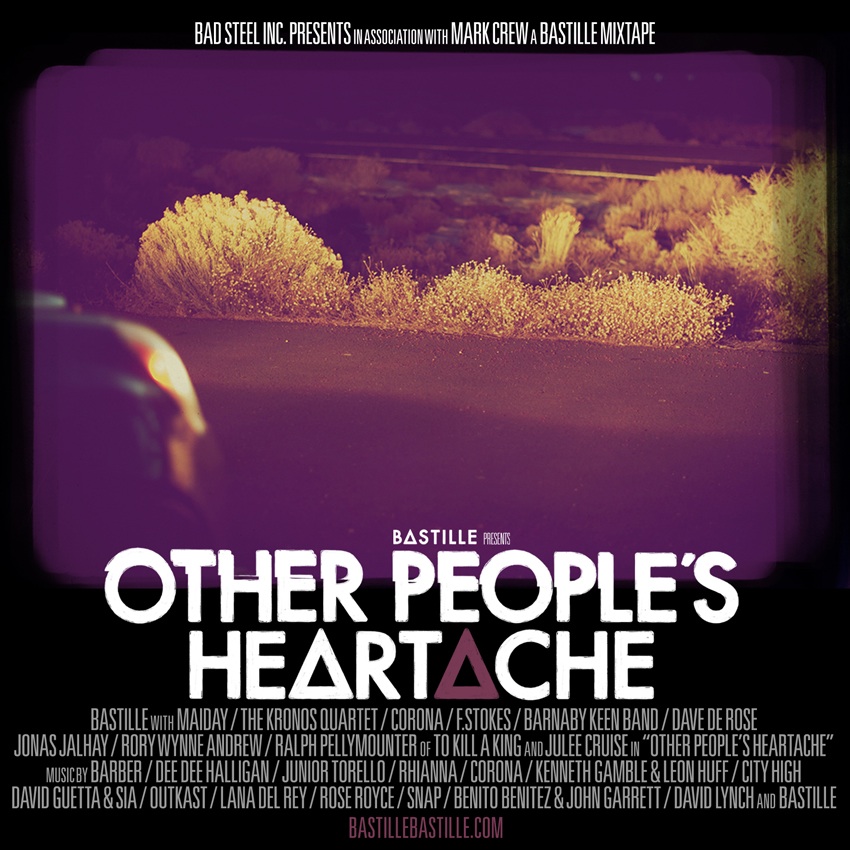 It's going to sound like I'm talking to you with my nose travelling in a perfect arc, rapidly towards the ceiling when I say this, but I really like hearing bands that not many people know about… yet. That is: the kind of bands you can go and see on the cheap in pokey little venues with 4 other people, then, potentially, go and see them a year later on a festival stage. There's a lot of quality on the up-and-coming scene.
My perception is that the signature of new music in the last ten years has been… well… anything except anything new. Bands have been taking the 50s, 60s, 70s & 80s, and adding in their own modern cultural influences, production and profanity. The retro revival is still in full swing, and I think it's fucking great. (Yeaah yeaah yeahh).
I like it – but I think I only like it because all musicians now seem to take themselves so seriously, and manage to concoct some absolutely awesome tunes by taking these influences but not appearing to take the mick out of them in any way.
Anyway, you can stop staring at my chin now and I'll try and bring this back to Other Peoples' Heartache. The reason I wanted to bore you with that preface is because Bastille are precisely that type of emerging band: They're obviously good to have gotten plenty of coverage so far, but you still don't know if they'll be a household name in 12 months or if they will remain relatively obscure.
I suppose then that if you are hoping that people will like you, making available a bunch of covers that introduce people to your signature sound whilst simultaneously nursing their desire for familiarity and relation, is a pretty good idea! It shows some humility if nothing else; compared to just expecting people to like your original music, right off the bat.
The pure choice of tracks to cover is fantastic. The covered tracks hail from different eras. Motown, the 90s, and big hits from this year all feature. Despite the wide assortment, the whole album flows seamlessly as one work, and that is its greatest achievement.
There's important consistency in Bastille's maudlin sound. Regardless of the genre of the original, it never strays too far from the signatories that make the song being covered memorable – it is tethered to them in some way. The album is however allowed to drift a lot in order to accommodate the spaciousness and synth/sample-driven, viscous undercurrent that identifies Bastille.
That defined thread allows some very bold samples to 'snap' you back just as the original material is becoming lost, re-grabbing your attention just in time. The best example is in Love Don't Live Here when, half way through, the track turns into a skit on Outkast. If for any reason you were drifting off, now you're thinking… "which Outkast song is that?"
It's important that the covers aren't all named straight too, because it means that it takes a few moments (on Google, in my case) to work out where some of the originals came from. The Bastille versions are so emblazoned with their own darkly-atmospheric grandeur that even though you recognise bits, they are not always immediately identifiable.
The other trait that I like about the Bastille sound is that the vocal comes across as extremely down-to-earth. It is easy on the ear, like any modern record is expected to be, but it has just a pang of conversational intonation at the end of a lot of words. That subtlety constantly reminds me that I'm listening to something that isn't a million miles away; something that isn't pristine, polished, Radio One pop.
In practice, the listening experience for Other People's Heartache went a little like this for everyone in my office today… Turn by turn they'd go: 'I know that lyric', or 'I know that riff', isn't that 'from this song' or 'by that artist'.
Then they'd go "Oh yeah, it's David Guetta. But it's not… This is cool. What are we listening to?". It's Bastille. And now they know!
You get the sense that Bastille could take any song and cover it with their own personas shining through brightest. To underline that point, Falling takes the riff from Julee Cruise's Falling – that song that was made famous by Twin Peaks – but it turns into what I would call a cover of Laura Palmer… by Bastille!
To take that sample, then blend it seamlessly with a completely different arrangement of one of their own songs, then to make it fit, seamlessly, on a collection of covers… I thought it was ingenious. I had heard Laura Palmer previously but not for a little while, so I was still going "I know that bit from somewhere" and it took me a while to realise that it was their own song.
And it's no detraction at all by the way that Falling is not so much of a cover. If anything, the whole project – which is free to download by the way – is an exemplary advert for Bastille's other recordings, so ending it on Laura Palmer is the perfect segue for someone like me to start exploring the band's original material.
Other People's Heartache is short and sweet, I love the name of the project, and I love that it is all about Bastille at the end of the day. It serves as the perfect introductory to their music. All the covers are done tastefully and have one thing in common – they all sound like the same fresh, new, retro-inspired band. Will I be on the lookout for Bastille's original material now? Yes, absolutely.
And you know, maybe this is a trend – the 'mixtape album'. It was a cult sort-of-covers album that broke Frank Ocean into the mainstream. Maybe Other People's Heartache will expose Bastille in a similar way.
Recommended by Janna