I'm not sure I am someone who could ever really be much good at running marathons. I'd at least like to get a few more years running under my belt before I try and run them hard.
Anyway, I made a few running promises to myself this year and one of them was to do a marathon, to sort of, 'get it out of the way' so I could continue to focus on 10k.
After cracking 40 minutes for 10k – I skinned it in 39:55 with a sprint finish even though I had no idea what the time was on the clock [remember that fact] – I decided to look for a marathon that I could do that was local and sometime in September/October (due to a little bet). The Farnham Pilgrim Marathon fit the bill.
It's a trail marathon and I was expecting it to be hilly-ish. I had trained for 16 weeks on three steep, long hills in Guildford. But WOW. It wasn't anything like enough. This run (if you can call it a run at the speed I did it) was horrific. Most of the hills weren't that steep, but they were long. As a result, at the halfway point (2 hours, by the way) my quads were shot.

And that led to a lot of comedy running styles, a lot of cramps, a bit of a twist in my left knee at about 22 miles and a lot of walking. I wouldn't be surprised if I walked 5 miles of the last half (and frankly halfway felt like 20 miles – I knew it was going to be a hard slog home).
That, compounded with the broken rhythm and sloshy stomach from drinking at pretty much every station, made for a bit of a misery march.
There was a lot of muttering of "why did I think this would be fun", and "man up" and "that guy looks about ninety and he's running faster than me"* or in fact "that guy could pass on before I finish".
Nevertheless, of course, I'm thrilled to have done it. I'm in two minds about whether I want to get the London Marathon place I entered into the ballot for. Give me a road any day but… Yeah.
After that glowing endorsement, I can heartily recommend doing the Farnham Pilgrim. The organisation and the volunteers were amazing, it was a beautiful course, and everyone was sickeningly friendly. To the point where I only heard one ungodly word muttered all day. Do it. Honestly.
Thank yous
Thanks to everyone who's taken interest in the fact that I was running and chatted to me about it over the past few months. I know you're all bored of hearing me go on about running so I'll do my best to 'keep it down' a bit.
Particularly Hearn who has been behind me all the way, Darren who cycled alongside me during training and can vouch that the 21 mile training run was extremely hilly and I did do it on course for a 4 hour time for the whole distance (that's how bad I found the hills today), and Webb and Bára who turned up at the finish to see me. I really appreciate that! (Sorry I left you waiting around for an hour).
And Bára again for telling me that other than one big hill it was a 'flat' trail. Cheers.
The Marshall who told me "this is a bit of a difficult one for your first" about 2 miles from the end.
The chap who wouldn't let me walk any of the last half mile and sped up to help me sprint the last 50m [and, no, I didn't know what time was on the clock this time either].
And the time, well I'm not all that thrilled about it. Not because it's a particularly bad time, but more because I bigged myself up by saying I thought I could go for 3:30-4.
4:29:55. Well. At least it shouldn't be too hard to beat it next time.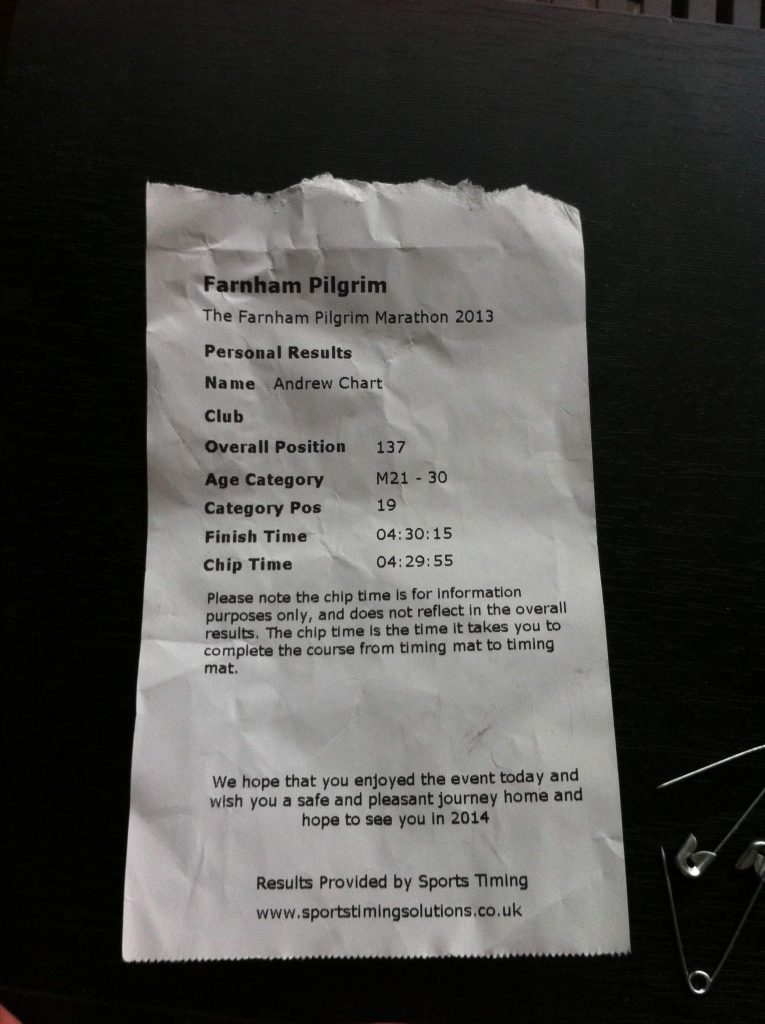 The guy that must have been approaching 90 who I only overtook in the last 500m.
The guy that I tagged along behind for ages and thought he got away, then I saw him cross the line in about 4:55.
The guy that came up to Bara and Webb and asked them if they had collected their trophies yet. He must have thought they looked so clean and showered that they must have finished hours ago.
The Wizard, witch and monk randomly offering "encouragement" about 1.5 miles out
The great volunteers who marshalled and handed out the food and drink
The guy that told me that "it's a bit of a difficult one" 2.5 miles from the end
The girl that said we were about 2.5 miles out when it must have been over 3.
The marshall that told me my shirt was red around the right nipple when I hadn't noticed
The woman that said "I didn't know we were going to be running by my house" when passing a manor house.