Kimbra – Vows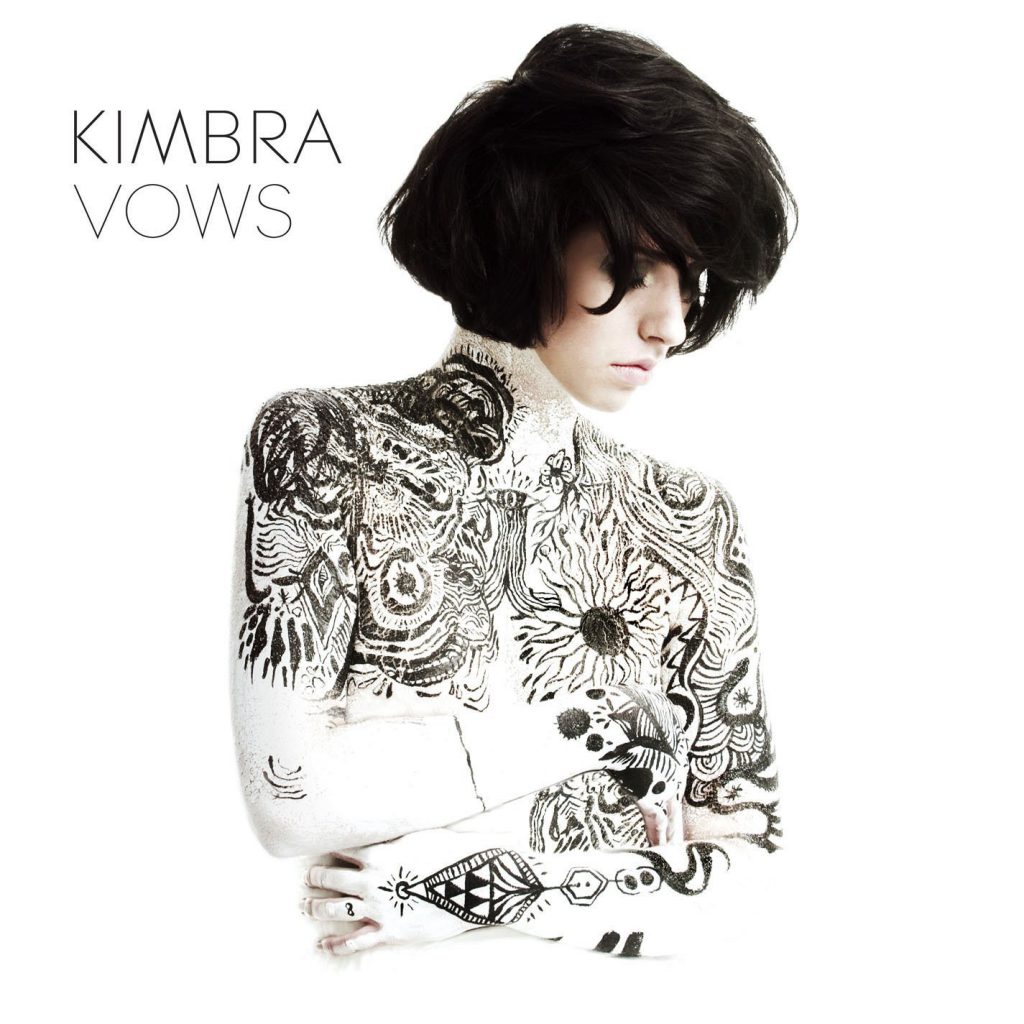 Kimbra – also known as that girl what did Somebody I Used To Know with Gotye – released Vows in New Zealand some centuries ago, or at least that's what it feels like.
I've been giddily awaiting this album for some time. I was a bit bummed that I didn't get to listen to it on the 7th but it wasn't available until today. I assume the delay was because we were waiting a few extra weeks for the UK to get over Gotye.
The way Kimbra looks and sounds, and the way she is pictured inside the album booklet, draws an inevitable comparison to Björk. Her voice has the same enchanting airiness, and the tracks have a bit of that "Alice In Wonderland" oddity about them.
For what it's worth, I'm not Björk's biggest fan and I prefer the accessibility of Kimbra. That said, I'm not sure how I feel about Vows as a whole. I think I approached it looking for something really poppy, and it's not. It's actually quite soulful, quite R 'n' B. It even tips its hat to jazz by way of a bridge between tracks at the end of Old Flame.
I don't want to seem disappointed about that, but having heard Settle Down and Two Way Street ahead of today, I was hoping for a whole album of similarly-quirky gems.
That said, there is more fairy dust in Good Intent and Come Into My Head, the latter of which brings to mind Jamiroquai-like bravado thanks to its loud, agressive, synth-rock backing track; but I found more songs than I expected to be forgettable, for want of a better word.
I wish there were more strong songs, but I can't take anything away from the sound which is bold, loud, and not at all devoid of diamond-encrusted sheen. It has the same kind of charm and daring as Imogen Heap, with a similar easy-on-the-ear sonic palette which is unpredictable yet pleasantly surprising throughout.
I find Kimbra mesmerising to watch as a performer. She puts her whole body into a kind of trance-like quiver that channels movement into sound. It's gratifyingly fresh. Her fledgling, semi-mature vocal is what brings Vows out of mediocrity and makes it deeply engaging, in fact.
Of particular note is the intertwining of the vocals, and the use of vocal sounds where many would have used instruments. Contrarily, this produces a machine-like consistency thanks to the plasticy delivery and heavy-handed effects. If it were three people, like Destiny's Child for example (I'm writing this with Come Into My Head playing), it would be pure pop R 'n' B crossover. But because it is just her, it's robotic and hypnotising. Her visual image reflects this perfectly, showing awareness and performer's instinct.
I'm trying to decide whether to dare saying the words "female Gotye"… The thing is that Gotye draws together a huge collection of innovative sounds, a number of cultural influences, and ideas off a conveyor belt labeled 'unconventional' and makes albums like Making Mirrors that work deliciously: by being jagged on purpose, they flow like lumpy custard. It's just 'right'.
Kimbra nearly does it. Nearly. There is certainly diversity, and she nails the mixture on a percentage of the songs. Whether it's carved into quite as good a sculpture overall though, I don't know.
I'm chuffed to find out that Kimbra will be touring this in the UK, although I don't think that Union Chapel is the the right London venue for it, as much as I like it there! Anyway – it's accomplished musicianship. Alternative R 'n' B, techno soul that is fun to watch thanks to her puppet-like demeanour.
I'm also hoping that Vows will enjoy enough success that Kimbra latches onto a great producer who can bring to the table a songwriting team to make the most of her outstanding vocal and her commendable ideas. I'm talking about the Neptunes, if that's not too ambitious! That way, I think you would see her release a world-class album that would be strong from start to finish, not just during a few select tracks.